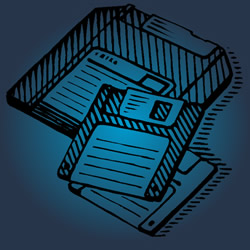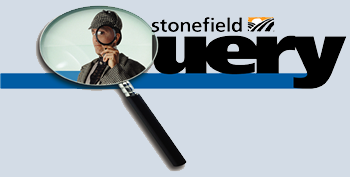 Stonefield Query for GoldMine®
Please Contact Me About Stonefield Query for GoldMine
Stonefield Query for GoldMine® is a user-friendly data mining, query, and report writing tool designed specifically for GoldMine. You no longer need to call an IT specialist every time you need a report. Now your sales people, administrative staff, and management can create their own reports in minutes after only an hour of free training. Stonefield Query for GoldMine can handle virtually all of your reporting needs.

To try Stonefield Query with your own GoldMine data, download a 30-day trial today!

The latest version of Stonefield Query for GoldMine is 3.04, released November 24, 2006. View the release notes.

Stonefield Query works with all GoldMine versions from version 4.0 up to the current version.
More than 40 pre-defined reports are available. These reports alone are worth the price of Stonefield Query for GoldMine!
All fields (even user-defined fields) appear with the caption you've assigned (global or local label) rather than the field name or 'User-Defined 2'.
Fields are organized into logical groups (matching the tabs that appear in GoldMine) rather than their actual tables.
Contacts, History, and Details information is displayed as you expect it, rather than in the overloaded tables in which the data is actually stored. For example, sales fields, such as Price and Amount, are displayed correctly as numeric values rather than the character values that are actually stored in the GoldMine database. Email and Web site are displayed as Contacts fields in addition to Details. Doing this in other report writers is either not possible at all or requires very complex SQL SELECT statements.
Although forecasted and completed sales records are stored in the Calendar and History files, respectively, Stonefield Query for GoldMine includes Forecasted Sales and Sales History tables, making it much easier to get at sales records without having to filter Calendar or History on the record type.
Detail types you've customized (such as assigning headings for Fields 1 - 8 or creating tabs for) in GoldMine appear as separate tables in Stonefield Query for GoldMine, showing only the appropriate information for the detail type rather than all details records. Even better, if you use Details Plus, a GoldMine add-on product from Solica Consulting, Stonefield Query will use the customized headings and data types you specify in Details Plus, allowing you to, for example, properly filter on date values and sum numeric values.
If address information for other contact records is blank, the address information for the main contact is automatically displayed.
Support for GoldMine 6.0 and later: HTML tags in Calendar and History notes are automatically removed.
Pre-defined calculated fields, such as City/State/Zip (combined into a single concise field, handy for labels and envelopes), make it easier to report on the data you want.
Stonefield Query can create groups in GoldMine.
Multi-Database Support: A single report can be run against each of your GoldMine databases without making changes to the report.

Stonefield Query for GoldMine can report on information in

QuoteWerks

, a quoting system that integrates seamlessly with GoldMine.
Report Types: Choose from three different report types: Quick Reports (row and column layout), Cross-Tabulation Reports (like pivot tables, for analysis), and Labels (mailing, barcode, etc).
Report Templates: Choose from one of the supplied templates or use the Template Editor to build your own.
Report Sample: See a snapshot of what the report looked like the last time you ran .
Report Scheduler: Automate reports that need to go out on a regular basis.
Report Preview: See what the report will look like at each step of the report building process. There's no need to save and exit before viewing.
Role-based Security: Control access to a single report, group of reports, and/or specific modules by assigning users to groups. This allows you to restrict access to sensitive data.
Unlimited Reports: Create an unlimited number of reports.
Favorites: Save frequently used reports into your user-specific Favorites folder for quick access.
Output Types: Stonefield Query for GoldMine supports output to comma-delimited (CSV), Microsoft Excel® (XLS), Microsoft Word® (DOC), PDF, Rich Text Format (RTF), Table Format (DBF), Web Page (HTML), and XML.
Email Reports: Use a SMTP or MAPI email client to quickly email reports through Stonefield Query for GoldMine.
Label Wizard: Select any data in your system and choose from 87 different Avery label formats.
Advanced Report Designer: Customize the report layout beyond the report wizard settings using the Advanced Report Designer for complete report control.
Customize SQL Select: Stonefield Query for GoldMine automatically generates a SQL Select statement for the report once fields have been selected. Advanced users can customize the statement if desired.
Detailed Help File: Read through our detailed online help or our 240+ page PDF reference manual. Topics include Tutorials, Using Stonefield Query for GoldMine, Menu Functions, How To, and Frequently Asked Questions.